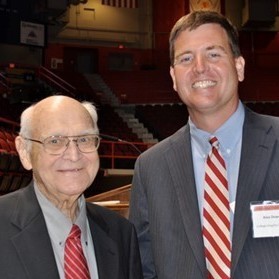 Eva Rush Lee and Albin L. Lee
Eva Rush Lee was born in Allen County, Kentucky. Mrs. Lee was an educator for many years, serving as a teacher and counselor for 36 years for Allen and Jefferson counties' boards of education. She was also active in her community as a member of Jefferson County and Kentucky retired teachers associations and Audubon Baptist Church. After a long, prolific career, Mrs. Lee passed away in January of 2001.
Dr. Albin Lewis Lee was born in August of 1929 in Elizabethtown, Kentucky, to L.H. and Mayma T. Lee. After graduating from Elizabethtown High School, Albin pursued a BA (1950) and MA (1955) degree from Western Kentucky State College and then went on to obtain an EdD degree from Indiana University (1965). He worked as an educator for several years before serving in the U.S. Army as a military counselor and helping to establish educational rehab programs during his service as well. Mr. Lee then taught at Hodgenville High School and Southern High School, worked as a counselor at Butler and Thomas Jefferson High Schools before going into the Central Office of the Jefferson County Public Schools where he retired as Assistant Superintendent. He also did some part-time teaching for U of L, Spalding, Murray State, and Indiana University Southeast. After his own prolific career and life, Dr. Lewis passed away in July of 2013.
To honor his wife's legacy and to provide assistance to WKU students, Dr. Lee established the Eva Rush Lee Scholarship Fund and the Albin L. Lee Scholarship Fund. Since his establishment of these funds, the two were combined. Through this fund the legacies of Eva Rush and Albin Lee live on in perpetuity and junior and senior Kentucky residents majoring in English and History are assisted in obtaining an education.