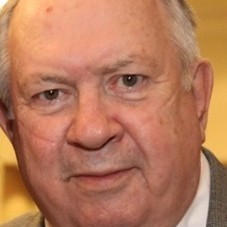 Charles Smith
Dr. Charles W. Smith born in 1936 in Pennsylvania, had a 44 year teaching career. He holds a B. Mus. from the University of Wyoming, a M.A. from New York University, and a D.M.A. from Peobody College. He is a member of ASCAP and since 1995 has received ASCAPlus Awards for his compositions and arrangements. He is also a founding member of Orchestra Kentucky, a professional orchestra in Bowling Green.
Dr. Smith is a Professor Emeritus of Music at Western Kentucky University where he taught music theory, composition, research, and flute from 1989-2002. Throughout his professional career, he played principal flute in several professional bands and orchestras, directed off Broadway musicals, and toured Europe with his wife as a flute soloist. He also performed a flute concerto with a professional orchestra in St. Petersburg, Russia. He has served as a guest conductor for district and state high school bands in Virginia, North Carolina, and Missouri and has taught flute, theory and composition privately to junior high and high school students.
Dr. Smith began composing when he was 10 years old. His compositions have been published by Southern Music Co., Brodt, Pro Art, Barnhouse, Dorn, and Broadman Press. He has also produced important historical editions, including several first editions of 17th and 18th century wind music, all published by Musica Rara (France). His compositions have performed all over the United States and Europe.
Dr. Smith's honors and awards include: The Prize of the American Guild of Musical Artists; Prize Winner of the Institute for Studies in American Music; KMTA-MMTA-MTNA Composer of the Year; Master Teacher Certificates in Theory, Composition and Woodwinds from the Music Teacher's National Association; WKU University Award for Outstanding Research and Creativity; and the Lifetime Achievement Award in Arts and Humanities from Orchestra Kentucky.
In addition, Dr. Smith has been recognized at WKU in various ways. In 1999 he received College and University Research/Creativity awards at WKU. He also received the Cupola Society award. Moreover, to recognize his dedication and enormous contributions to the Department of Music, to the WKU community, and to the music profession, the Delta Omicron Professional Music Fraternity established the Charles W. Smith Scholarship Fund. The establishment of this scholarship fund is a meaningful tribute to him and demonstrates a belief in the importance of education. This scholarship is a lasting source of assistance to students attending WKU and majoring in Instrumental Music.
Dr. Smith is married to concert pianist, Dr. Janet Bass Smith, has four sons (one deceased), seven grandchildren, and one great-grandchild.